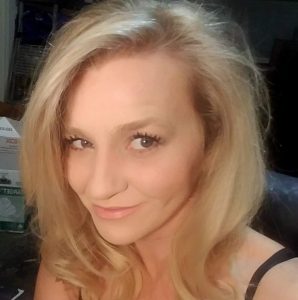 Amber McNeel
If I could say in words what my paintings reveal about my inner feelings, my sequestered emotions finding escape in the dawn of description, I would have no need to paint.
What is my art about? All I can say is that every painting starts with a compulsion to exhale emotions that are foreign, frightening, or frustrating. From there pure unadulterated emotion takes over and fingers and hands spread acrylic across a canvas leaving behind blaring echoes of my desires, my pains, my passions, and my very soul. The bright colors attempt to hide the sorrow and heartaches just as I try to hide behind a smile in real life. Each painting is a page directly out of my personal diary, another tale of lovers lost, anger amplified, or damages long disguised.
My name is Amber McNeel. I am 43, married, mother of two, and have been expressing emotions through paint and canvas for about seven years. I tend to paint in abstract or pop art styles with bright colors being the predominant color scheme even though the bright can't hold back all my dark.
My series include a collection of nude portraits called 'Emotional Silhouettes', a pop art focused abstract series that includes wpap art and more titled 'POPular portraits', and a series of abstract fluid like paintings called 'Flowing Chaos'.
For me every painting is a window into the recesses of my soul. The colors may be bright but the dark seeps through showing a glimpse into my inner and oft suppressed feelings.
The body painting series is my diary: a direct expression of my feelings. All the emotions I repress are brought to the surface with paint. I use only my fingers as brushes letting my feelings flow out of me onto canvas.
Whereas the body series is my hidden truth, the pop art and portrait art pieces represent the cheerful and fake facade I wear for daily life. The bright colors mimicking the makeup we all paint ourselves with to distract from our perceived flaws. Although lacking the easily identified emotional depth of the body series, they have a dark depth of their own for anyone who can look beyond the cheerful colors.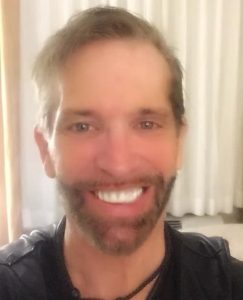 John W. Fox
John W. Fox is an accomplished folk artist. He has been featured in many publications and won a very prestigious contest. His art has been procured by the matriarch of the Vanderbilt family and he was commissioned by the Dallas Zoo to create a mural in the children's area where it can still be seen today.
His paintings are fun, bright, and bring joy in their simplistic creativeness. He says his goal is to bring a smile to the eyes.
Some of his most recognizable work are his folk art depictions of the city skyline. His bright and bold take on the DFW scene draws you in and captures the hearts of many.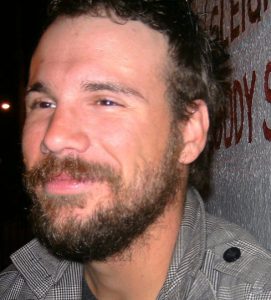 Cody McNeel
Cody McNeel is a musician who has been playing guitar for as long as he can remember. He once played in the band Bench Warmer and was at a very young age a very influential part of the Deep Ellum music scene in Dallas.
These days Cody writes his own original music and often collaborates with other musicians to create unique and soulful sounds reminiscent of the shoegaze style he loves.
Some of his greatest influences are Jeff Buckley, Smashing Pumpkins, The Verve, Radiohead, and more.